Special Lecture by Dr. Kittipong Kittayarak
On 11 November 2022, the Special Lecture by Dr. Kittipong Kittayarak, special advisor to the Thailand Institute of Justice (TIJ), was held at the Ministry of Justice of Japan. Due to his outstanding contribution to strengthening the relationship between Japan and Thailand in the field of justice, he was awarded the decoration "The Order of the Rising Sun, Gold and Silver Star" in fall 2022. This Special Lecture was organized by UNAFEI, TIJ and the Asia Crime Prevention Foundation (ACPF), on the occasion of his visit to Japan for attending the Imperial Conferment of Decoration Investiture. It was conducted in a hybrid format (in-person and online), inviting H.E. Mr. Singtong Lapisatepun, the Ambassador of the Kingdom of Thailand to Japan as a guest.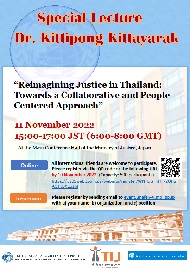 The theme of this Special Lecture was "Reimagining Justice in Thailand: Towards a Collaborative and People Centered Approach". About 100 participants gathered at the venue, and about 100 participants observed the lecture online. With his vast experience leading the reform of the justice system in Thailand, as well as his numerous and diverse contributions to international cooperation, Dr. Kittayarak offered many useful insights on designing our future justice systems. The lecture was of great interest to the audience, and active discussions were held during the Q&A session.
Lecture Slides are available here

A video recording of the Special Lecture is available